About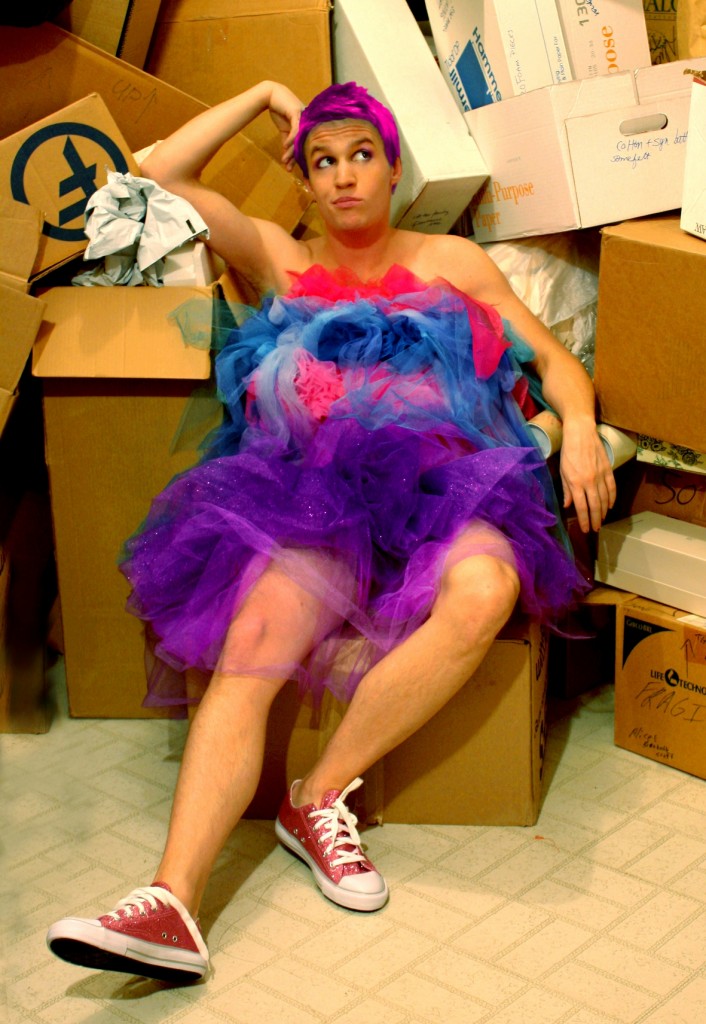 "JAC Stringer is a charming hurricane of glitter and big ideas, so cute you can't help listen to the smart things he says (and so smart that you can't help think about them). A brilliantly accessorized example of how flexible the ways of gender can be, and how tender." – S. Bear Bergman
Who is:
Midwest GenderQueer, commonly known as JAC Stringer, is a trans-genderqueer femme, (dis)abled-kid radical activist and performance artist. A native of Cincinnati, Ohio, JAC strives to create visibility, community, and resources for trans*and queer communities. JAC has lectured and performed across the USA and Canada with his work focusing trans* and queer education, social justice, femme identities, accessibility/(dis)ability, and trans*/queer artistry. He uses radical activism, hot pants, poofy skirts, and gender theory to create an intriguing space centered on bodies, ability, androgyny, and beyond.
JAC is the founding director of Heartland Trans* Wellness Group (formerly The Midwest Trans* and Queer Wellness Initiative), as well as having founded and lead several activist projects including Cincinnati Trans* Community Group, TeenSPACE, GenderBloc, the GLSEN Greater Cincinnati Youth Group, and The Queer Canon Zine.  JAC is a leading activist in the movement against gender identity pathologization and is very invested in health care reform and comprehensive sex education. He is a strong advocate for trans* and queer inclusive sexual assault awareness and prevention and is a trained survivor advocate. JAC is an Advocates for Youth Alum, an Equality Ohio regional Lobby Team Leader, and is an organizer on several local and national organizing boards including The Greater Cincinnati LGBTQ Youth Summit, The Philadelphia Transgender Health Conference, and he  is the 2014 co-chair for The Femme Conference.
As a performer, JAC has done genderfucking dance, music, drag, and spoken word everywhere from full scale theaters to classrooms to dive bar broom closets. Primarily self-taught, he combines a speckled arts education of living room dance lessons, classical training, and old movies with identity focused messaging to create an empowerment focused artistic repertoire. In addition to being a solo performer, JAC is the co-manager of the nationally recognized drag cabaret troupe, The Black Mondays, and founder of Gender Queeries Genderqueer Performance Tour. JAC is lovingly devoted to the drag performance community, seeing it as an important and unique venue for trans* and queer self expression. He serves on the board of The International Drag King Community Extravaganza and is a national gender performance showcase producer of shows such as the University of Cincinnati GenderFuck Show, Fabulously Fluid!, Philadelphia Trans Health Conference's Blender!, and Mind the Gap. JAC's community-focused shows, rooted in radical activist ideologies, have gained international contribution in cities around the country.
JAC is a life-long dancer, poet, musician, and rabble-rouser whose work's purpose is to generate unity, action, and empowerment  in trans* and queer communities through education, art, and other various forms of revolution.
Artist Statement:
In life there is no normal, there are only expectations. Normalcy is forced upon us our entire lives, significantly through what our body is, and what it is not. Body normalization conceptualizes social inclusion, legitimacy, and worth externally and self esteem, pride, and acceptance internally. My body's lack of normalcy, due to ability, sex, size, gender identity, and gender expression has influenced my navigation of society and culture. From childhood I found it was impossible for me to uphold or own a socially acceptable existence. I came to realize that my life is fundamentally freakish and genderfucked from a series of unconscious and conscious radical, deconstructionist actions where cultural norms and gender expectations are challenged within or by my own existence. My performance is rooted in wanting to create visibility and recognition for my communities; being a genderqueer transguy, a femme, disabled, Midwestern, a survivor, and an activist. My goal is to challenge conceptual normalcy of gender, sex, ability, and humanity to provide a venue for the empowerment of others.
My body is my most essential instrument. Growing up, I sporadically grabbed tastes of different art forms through childhood games, small time recitals, and old movies. Over time this cultural peppering helped me shape my own artistic sphere of performance, writing, and music.  By combining my adaptations of more "traditional" dance, voice, and performance elements with drag-based, genderfucking styles I aim to present a contrast of historical and post-modern bodily exhibition that challenges normative concepts of the body as well as gender and sex. Many of my performances use comedy and jovial clowning because, to me, laughter is the most organic venue for conversation. Many of my pieces promote a trans* experience and activist issues in hopes that my voluntary vulnerability on stage will educate against the oppressions of my community off stage. My experiences are not wholly unique and through sharing them I hope to help raise my people's communal voice and achieve a better global understanding. I frequently use language, costuming, colors, dance, and music to abstractly represent elements of a story-line  Costuming, which I design and sew myself, may represent a response to environment, sense of time, gendered experiences, or personal emotion. Colors and costume materials are also a common performative element for me because they indirectly set a tone and create further commentary. I use recognizable elements often hidden within trans practices, such as ace wrap, duct tape, or packing to speak to the realities of gender non-conforming people, promote body empowerment, and raise a veil from trans* experience for non-trans* people. The music and media I use is either composed myself or is deliberately chosen because of its lyrics, its intonation, or its source. Nearly all of the music, art, and media I use in my work are by trans* and queer artists (including heterosexual allies). By utilizing the talent from within the trans* and queer communities I hope to aid in creating a sustainable trans-queer artistic culture. All the dimensions of a piece may not be fully translated to every audience, but I feel all are able form their own interpretations of each piece making the performance belong just as much to the audience as it does to me.
In my life I have experienced love, loss, anger, forgiveness, pain, pleasure, sadness, and joy. This is not because of any of my identities in particular; it is because I am human. When I was young my difference caused a lack of acceptance, both from myself and others, resulting in my own loneliness, confusion, and self hatred. Through my work I hope to combat these forms of isolation in ways that were not available to me back then. I strive to create a visible example of how life is not encompassed by one of two genders, one of two sexes, one type of body, or one way of life. In doing this I hope to send a message to others who feel different, and let them know that they are not alone.